Rhinestone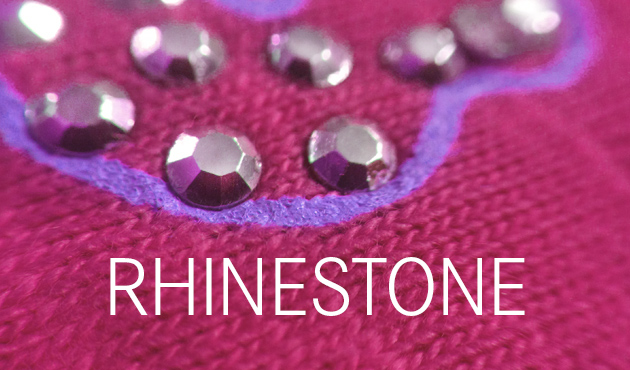 The right ink not only enhances your design, it sets the stage for your other embellishments. Melmarc offers the following types of inks that can be applied in a wide range of embellishments.

Description:
Rhinestones are applied as a heat transfer. Rhinestones are available in an assortment of dimensions and colors.

Art Requirements:
Print Size: 18″ x 23″ max

Applicable Garments:
Weight: 2.25 oz – 8 oz

Melmarc recommends using 100% Cotton or Cotton/Poly blends containing at least or more than 50% cotton.

Wash Requirements:
For best results, garment should be washed inside out on gentle cycle, tumble dry low. Do not bleach or iron embellishment.

Quality Concerns:
Rhinestones cannot be applied to seams, or collars.

An item will be considered defective when more than 5% of the products show the following characteristics:

Loose Elements:
· Heat transfer glue does not attach to a pure non processed 100% cotton surface.
· Heat transfer backing is detached from the bottom surface of the element to show.
· Single product package contains more than one color shade.
· Elements may have different color shades during manufacturing. This will not be considered defective.

Custom Transfer Production:
· Approved artwork differs by more than 5% on the placement of materials.
· Color of materials on transfer is incorrect. Excludes shade variance caused by manufacturer.

We use the following stones and studs: rhinestones, studs, Swarovski stones, and nail heads. See Stone Chart and Shape Stud Chart for more options.

View Stone Chart
View Stud Chart