Black Light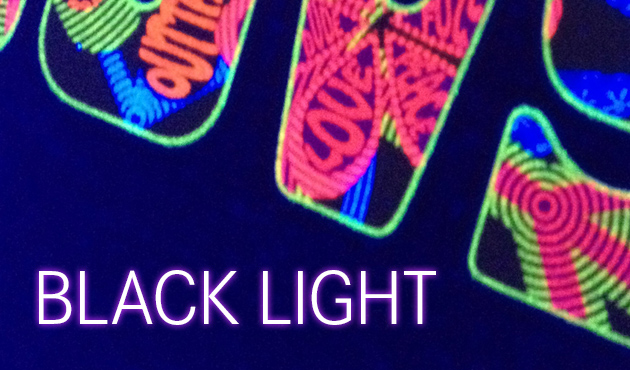 The right ink not only enhances your design, it sets the stage for your other embellishments. Melmarc offers the following types of inks that can be applied in a wide range of embellishments.

Description:
Like regular glow in the dark inks, blacklight inks absorb energy and re-emits it as visible light. Unlike ordinary glow in dark paints, however, the glowing effect is only visible under ultraviolet lights. When viewed in regular light, these ink colors are bright and vivid.

Invisible black light is a clear color that only appears under Black Light conditions. Add a hidden image or slogan over a simple white impression that when under Black Light conditions will Fluoresce. There are 6 invisible Black Light colors available: Inv Blue, Inv Green, Inv Yellow, Inv Violet, Inv Orange and Inv Bright White. Shown to the right, top image is under Black Light conditions.

Visible Black Light: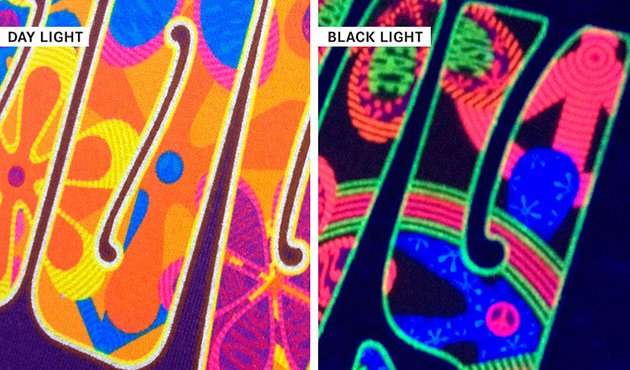 Invisible Black Light: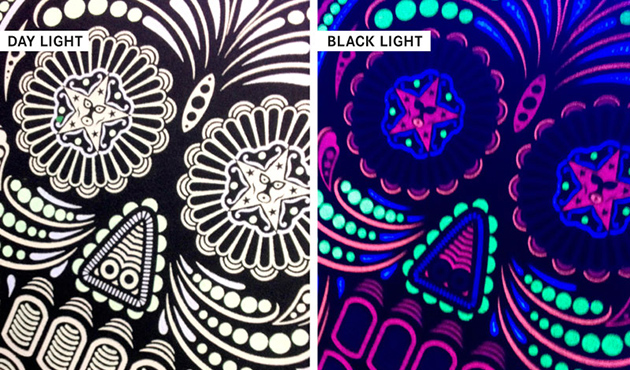 Art Requirements:
Halftone: 25 lpi
Line Weight: 2pt min
Print Size: 0.25″ min – 19″ x 22.5″ max

6 Black Light colors max

Applicable Garments:
Weight: 2.25 oz min – 8 oz max

Melmarc recommends using 100% cotton garments or cotton/poly blends.
Wash Requirements:
For best results, garment should be washed inside out on gentle cycle, tumble dry low. Do not bleach or iron embellishment.

Quality Concerns:
Black Light ink cannot be applied to seams, or collars.

The intensity of the light absorbed by Black Light inks will affect how colors appear. The stronger the black light conditions the brighter the colors.

Due to the nature of Discharge, using discharge masks can see color variance due to the garment dye process.

Visible Black Light Colors:

Green

Blue

Red

Pink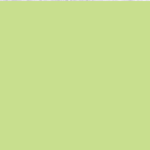 Light Green

Violet

Orange

Magenta

Dark Green

Invisible Black Light Colors:

Blue

Yellow

Orange

Red
Green

White