Plus Print Size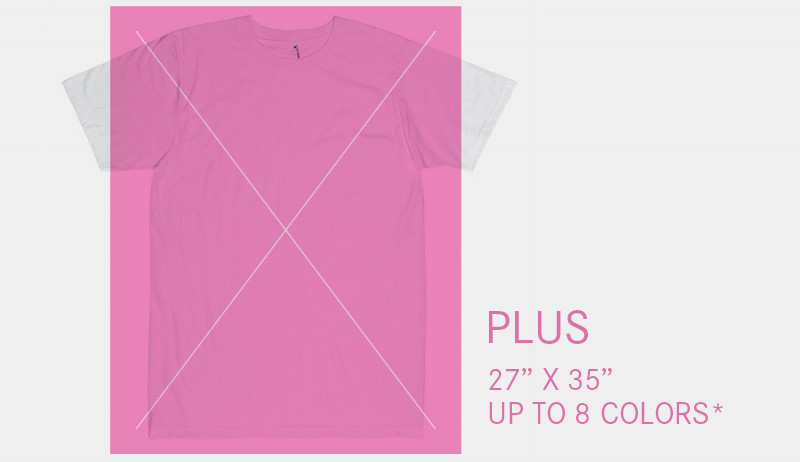 Size matters. From standard to all over, make sure your design is within the right dimensions.

The "Plus" image size is 27″ wide by 35″ tall. This print size supports up to 8 colors (Up to 10 colors on light blanks, subject to artwork). If art coverage exceeds smallest size, two size set-ups will be necessary.

Art Requirements:
The artwork needs to be compatible with your production size scale.

Minimum Order Quantity:
The minimum is 600 pieces per design. Click here for more information.

Lead Time:
Samples take approximately 5-7 business days.

Cost Implications:
All Over and Plus prints have the same development cost. Your cost will be determined by image size and the amount of colors used. We offer 2 color options: 1-5 colors (standard) and 6-10 colors (double cost). The film cost will be determined by the square footage of your design.

Printing Technique:
100% cotton garments are preferred for Oversized prints.

Quality Concerns:
Wrinkles are unavoidable and can be expected with Oversized prints. Wrinkles within 1/4″ wide are considered acceptable. Garments may shift up to 1″ in any direction. Ink coverage along seams will vary from heavy to light depending on the thickness of seam/collar/hem and artwork.

Check out some examples we've spotted in the market of Oversized prints from our Pinterest board.

Click here to find out more information about Print Sizes.