Visible Black Light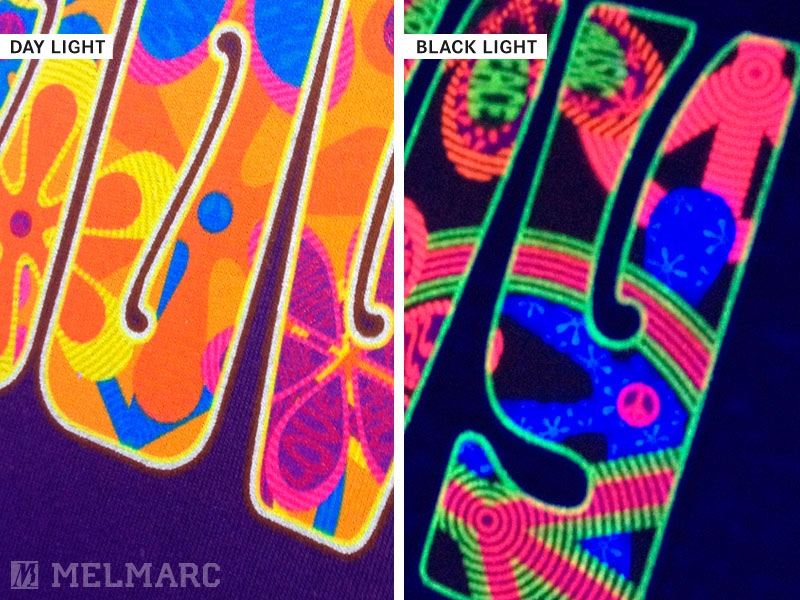 Why go plain when you can go bold? Enhance your tees to make them stand out from the crowd. From standard inks to appliques, Melmarc has a variety of embellishments that will have lasting impact on your design.

Description:
Transparent color that only appears under Black Light conditions.  Add a hidden image or slogan over any color or all colors in a impression that when under Black Light conditions will Fluoresce.  There are 6 Visible Black Lite colors available:  Blue Tang, Green, Yellow Tang, Violet, Orange and Magenta.
Art Requirements:
All art types will work.  For best results Visible Blacklite must print over a color of the same hue.  White will fluoresce as a purple tone under Black Light conditions.  Minimum Line weight:  1 point both positive and negative space.  Best results on 100% cotton and some cotton/poly blends.
Quality Concerns:
Visible Blacklite colors can shift color hue it is over printing.  Some colors react poorly under black light conditions.  Melmarc will attempt to adjust colors to eliminate color that reacts adversely.  However, some colors can not be corrected.  White appears as a purple under black light conditions.  Black Light intensity effects color appearance, the stronger the black light conditions the brighter the colors appear.  Due to the nature of discharge,  prints using discharge masks can see color variance due to garment color and dye process.