Purchase Order Requirements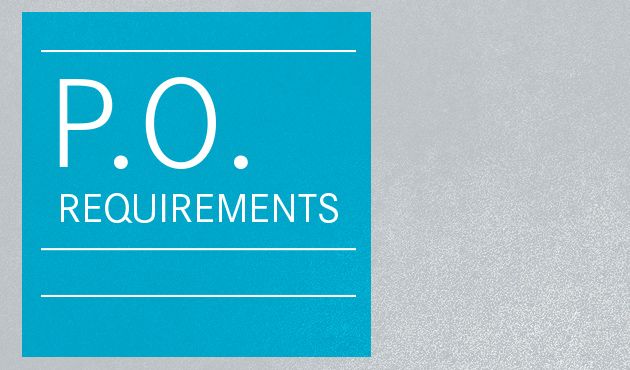 The following is a list of details that you should remember to include on your Purchase Order.

Customer Name:
• Company name
• Company address
• Contact name
• Phone number
• Email address

P.O. Number:
• Purchase Order number. If drop shipping to a store, the store P.O.# is required in addition to your P.O.

P.O. Date:
• Purchase order issue date

Ship To:
• Ship to name
• Ship to address
• Phone number

Start Date:
• Indicates the first day the Purchase Order is valid (from Melmarc).

Cancel Date:
• Indicates the last day the Purchase Order is valid (from Melmarc).

Ordered By:
• Contact name

Shipped VIA:
• Shipping method. Account carrier.

F.O.B:
• Freight On Board. FOB specifies which party (buyer or seller) pays for which shipment and loading costs, and/or where responsibility for the goods is transferred.

Terms:
• Payment terms (COD or Net 15, 30, etc.)

Units:
• Quantity of items listed by design, style, color and size.

Description:
• Design Name (A name used to reference design in the Makesheet and Purchase Order.)
• Style Number (Used to designate the style)
• Garment Vendor
• Garment Style (Boys, Girls, etc.)
• Garment Body (Long sleeve, short sleeve, etc.)
• Size (Small, Medium, Large, etc.)
• Colors

Unit Price:
• Price per unit

Total:
• Total price of units

Notes:
• Packaging & Finishing information (Fold, Bag, Sticker, Relabel, etc.)
• May contain specific instructions per shipping location.

Below is an example of a Purchase Order form. You can download a blank sample template that you can customize here.