Wash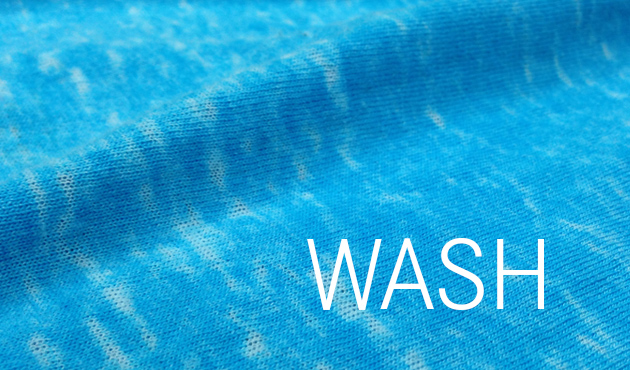 Bring out the best in your tees with washes to dye for. Think beyond the rainbow of solid color tees with stains and finishes you'll actually want to leave in.

Description:
Garment Wash is a special process that is used to create a soft, distressed, or worn out appearance to finished garments.


Applicable Garments:
For best wash results, we recommend garments that are 100% cotton PFD (Prepared for dyeing).
A fabric or garment which is prepared for dyeing is specially made to be dyed. PFD fabrics have been desized, scoured, and fully bleached, but have been processed without optical brighteners or softeners which can interfere with dye uptake

Wash Requirements:
For best results, garment should be washed inside out on gentle cycle, tumble dry low. Do not bleach or iron embellishment.

Quality Concerns:
Finished garments are not uniform in texture and vary in thickness around seams, pockets, cuffs and shoulders. Uneven puckered seams are distinct to garment dye treatment. To minimize the effects of the garment dye process, a high quality PFD garment is recommended.

Shrinkage:
As a result of the temperatures involved in the dyeing/treatment process some degree of shrinkage will occur. This is more common with finished blanks that have been piece dyed before garment construction. Garment shrinkage will vary depending on which garment style is selected. Final garment dimensions will be based upon the below "after process" shrink standards.

Standard shrinkage variance (+ or -)
3 – 5% 1 Treatment (example: dye)
5 -12% 2 Treatment (example: dye and wash)

Torque:
Torque is identified by the twisting or displacement of lengthwise seams. Torque is created in the yarn formation, knitting, and fabric finishing processes. It is a condition that is considered "normal and accepted" for dye or treated garments. Final garment torque will be based upon the below "after process" standards.

Standard torque variance
1" on sizes XS – XL
1 ¼" on size 2XL
1 ½" on size 3XL

Shading:
With the unique process of garment dyeing, Melmarc will require a shading variance as follows on all of its garment dye full package programs.
Direct and Reactive Dye: A plus (+) or minus (-) 5% shade variance within a production order
Pigment and Neon Dye: A plus (+) or minus (-) 10% shade variance within a production order. In addition, production can be 10% lighter than approved sample/lab dip.
Treatments: A plus (+) or minus (-) 10% shade variance within a production order. In addition, because most of the treatments are done by hand, one piece at a time, each shirt will have its own unique finish and no one, will be an identical match to another.