Behind the Tees: Sue Pereira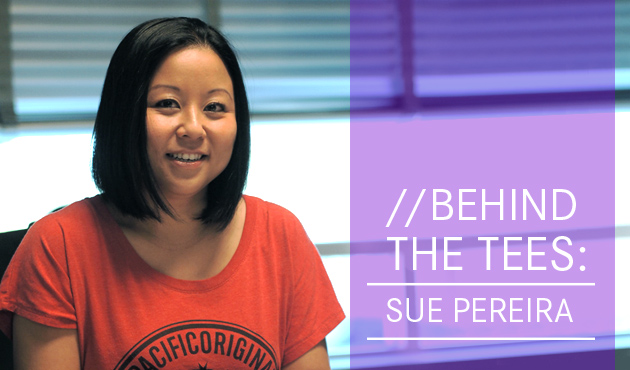 The team at Melmarc works hard to bring you a consistently high quality product and we're really proud of the work they do. Take a look "Behind the Tees" and learn a little bit about them.

Sue Pereira, Operations Manager, works with Leila Drager, our COO, to make sure things at Melmarc — both the company's daily functions and its interactions with customers — run smoothly. This July will mark Sue's fifteenth year with Melmarc. She started just out of high school, working at Melmarc during the day while going to college full time at night!

WHAT'S YOUR ROLE AT MELMARC?
If Leila's the babysitter, I'm the mediator! Before they go to Mom, they come to me!

THE MINUTE I GET IN MY CAR…
I turn on the radio and find a station with a song that reflects my current mood. It could be anything from rock to pop to NPR. This morning it was hip hop. I especially love anything with a beat.

ONE DAY I HOPE TO…
travel the world.

WHAT PLACES HAVE YOU ALWAYS DREAMED OF VISITING?
Actually my husband and I are in the midst of planning a trip that will take us to three of them: Spain, Morocco and Portugal (where his family name originated). We want to go as many places as we can before we start a family.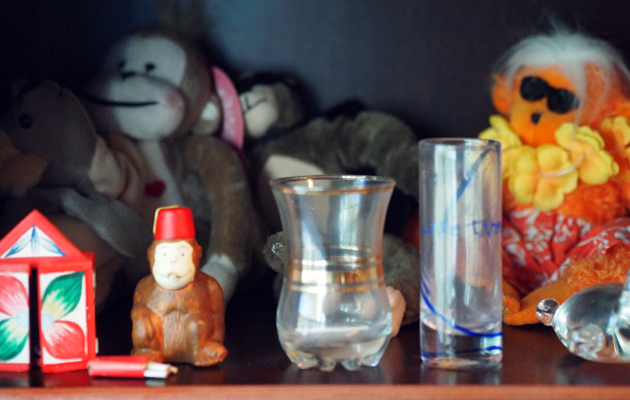 PEOPLE WOULD BE SURPRISED TO LEARN THAT…
speak fluent Vietnamese and that I was born in Hong Kong.

TELL US A LITTLE MORE ABOUT THAT!
My family, who's mostly Chinese, left Vietnam and went to Hong Kong where I was born in a camp before we emigrated here.

MY SECRET (OR NOT SO SECRET PASSION)
Food! I love food. I think about it all the time!

I SPEND MY SPARE TIME…
Cooking and eating with friends. People are always calling up to ask what's for dinner and dropping by. I say, as long as there is a seat, there's room for company.

WHAT'S YOUR SPECIALTY?
I love to cook all kinds of food but mostly Asian and Mexican. I'm not good at following a recipe though; I do a lot by taste. My philosophy is to keep tasting as you cook and that will lead you to happiness.

WHO TAUGHT YOU TO COOK?
My parents both worked and my grandmother took care of us. I learned by hanging out in the kitchen with her and watching her cook.

WHAT ARE YOU EATING NOW?
Right now, I'm trying to eat healthy after the holidays so I'm doing a lot of juicing! I don't own a juicer but I have a Vitamix. It's a really powerful blender. I blend everything up and then use a milk nut bag to remove all the pulp. I'm also making a lot of things, like soups and stews, in the new Dutch oven I got for Christmas. And I'm trying to follow the 80/20 rule: 80 percent healthy and 20 percent fun!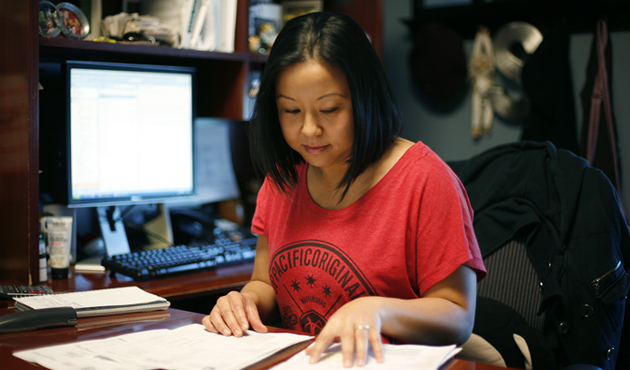 I KNOW YOU'RE A RAIDERS FAN. WHO INTRODUCED YOU TO FOOTBALL?
My brother. He played in high school. I learned about the sport cheering for him.

WHO'S YOUR FAVORITE PLAYER?
Of all time? Doug Flutie.

IF I WASN'T WORKING AT MELMARC, I'D BE…
A teacher.

WHEN I WAS A KID I DREAMED…
Of being Miss Hong Kong! My family still teases me about that and now I guess everyone at Melmarc will too!

Learn more about the people Behind the Tees at Melmarc here.